GW has a variety of resources available to help you gain a better understanding of web accessibility and learn how to effectively manage your content to meet web accessibility standards.
Digital Accessibility Overview
This training video highlights some of the best ways to ensure digital content is accessible.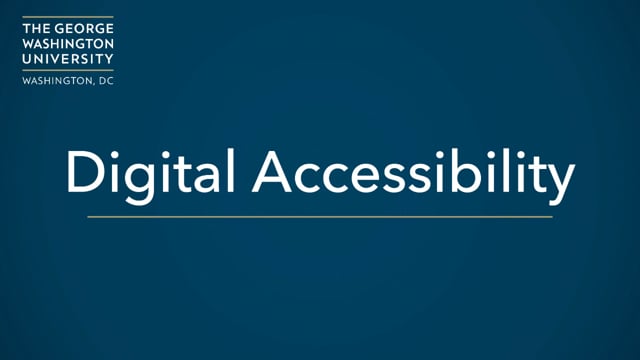 Online Resources
Training
LinkedIn Learning provides a wide array of topics and best practices including more than 200 accessibility-related tutorials across six courses. Current GW faculty, staff and students can access LinkedIn Learning trainings at no cost by logging on with your GW UserID and password. We recommend reviewing these courses and exploring others based on your personal interests:
GW's SiteImprove license includes access to SiteImprove Academy, which offers self-paced tutorials that give overviews of accessibility and examples of creating accessible content. Topics covered range from creating accessible web content to creating accessible PDF and Microsoft Office documents.
To access the tutorials, log into the SiteImprove Academy using your existing SiteImprove account.
In addition to the SiteImprove and LinkedIn Learning on-demand trainings, trainings on accessibility topics are regularly held at GW. Visit the Marketing & Creative Services website to see the list of upcoming trainings on accessibility and other web topics.